Power Washing in Islip, Bayshore, NY
Power washing, also known as pressure washing and soft washing, is a great way to get tough stains and dirt off of any surface with ease. Power washing uses extremely powerful streams of water along with special detergents to loosen tough bits of debris, which are then safely washed away. Pressure Washing can be used on decks, driveways, siding, roofing and more. This is a great investment if you want to keep your property in pristine condition all year round. Are you looking for a power washing company servicing Islip and Bayshore? Contact Us to set up an estimate.
The process is not just good for your property's aesthetics; it is important for its longevity as well. It also helps in removing harmful substances like moss and mold from outdoor surfaces that can cause damage to paint or stonework over time. 
Are you looking for an effective way to clean the exterior your property? Power or Pressure Washing is one of the quickest and most economical ways to boost curb appeal. Our team uses powerful tools that help quickly break down any dirt buildup on hard-to-reach spots around the house.
We always use the appropriate safety gear including glasses/gloves and a face mask to protect ourselves from flying debris during the process. Soft washing might look like a simple task but it could be dangerous when handled by an inexperienced person. It's best left to professionals if you are unsure of how to properly operate a pressure washer. Wally's proudly offers power washing in Bayshore, East Islip, West Islip and other areas all over Long Island.
Do you have a deck on your property you're thinking about rebuilding? 
Pressure washing a deck can be a great way to bring it back to life. Soft washing is an essential part of preparing a deck for staining and painting as it removes years of built up grime that can leave the surface rough and irregular. It can also prepare old wood, improving adhesives or paint's ability to stick on the surface. Power washing decks is a cost-effective way to prolong the life of your deck, prepare it for coating and make it look new again.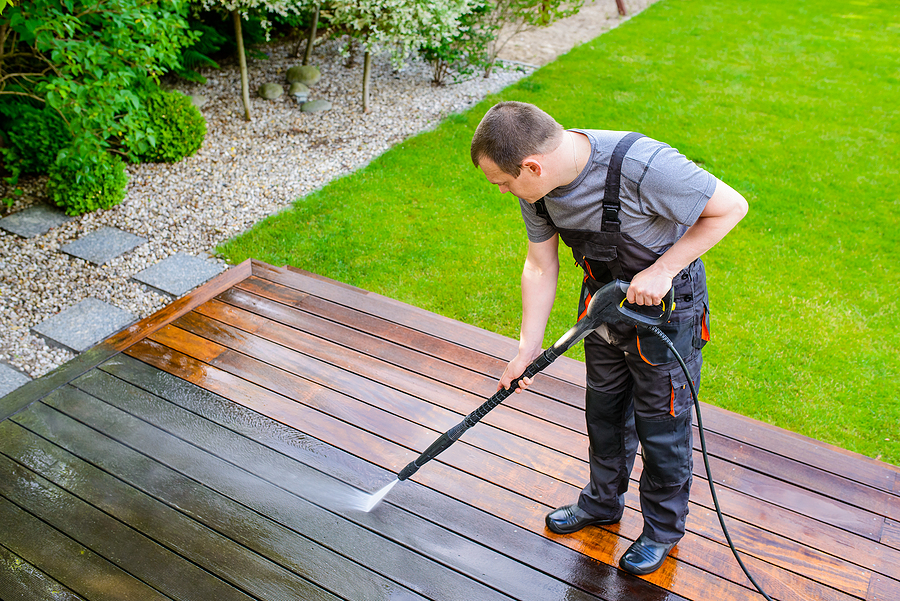 Decks are not easy to clean, especially if exposed to every type of weather. However, we can handle that for you with single regular washes.