No matter how clean your home is, some areas are almost impossible to reach. Your home or business exterior is often exposed to dust and dirt. While this is normal, part of your job as the owner is maintaining every part of the building to ensure it remains in proper shape. Power washing is a fantastic way to keep your exteriors neat and clean for a long time.
What are the Benefits of Professional Power Washing?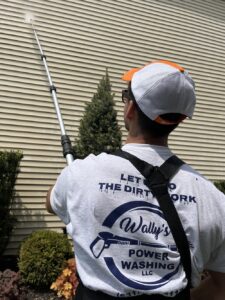 By the thought of cleaning, it is inevitable to assume that the primary benefit of power washing is to promote your residence's curb appeal. Well, that is true, but there are plenty more reasons that will make you book your next appointment with us. They include the following:
Promotes property value
Generally, the value of the property appreciates over time. However, to tap into its full potential, you must maintain and keep it in good condition. Power washing your home is a fantastic way of keeping the buildings healthy from harmful materials that often grow on the surface of buildings.
Reduces Damage 
Power washing also removes the layers of dirt that may ruin your surfaces or accessories. Additionally, it helps you spot damages early enough to make the necessary repairs on time. Without proper cleaning, these surfaces may cause substantial problems and lead to costly repairs. Therefore, power washing saves you money in the long run.
Prepares the property for projects.
Power washing is also a fast and efficient way to prepare surfaces before projects such as painting. It could also help prepare decks and patios before treatment.
Wally Power washing company is committed to helping the residents of New York maintain their homes and commercial spaces. We take pride in our customer's satisfaction and thus aim at getting the job done right the first time.
If you're looking for premier power washing in Kings Park, St. James, Selden, Lake Grove,  Medford, Commack, Huntington, Patchogue, Dix Hills, Smithtown, Deer Park, Ronkonkoma, Babylon, Islip, Jericho, Bayshore, Northport or anywhere else on Long Island, contact us.
Power Washing
Indoor Sanitation / Cleaning
Garbage & Debris Pickup/Removal
Deck & Wood Fence Staining
Demolition Rip Out/ Cleanup
LET US DO
THE
DIRTY WORK!